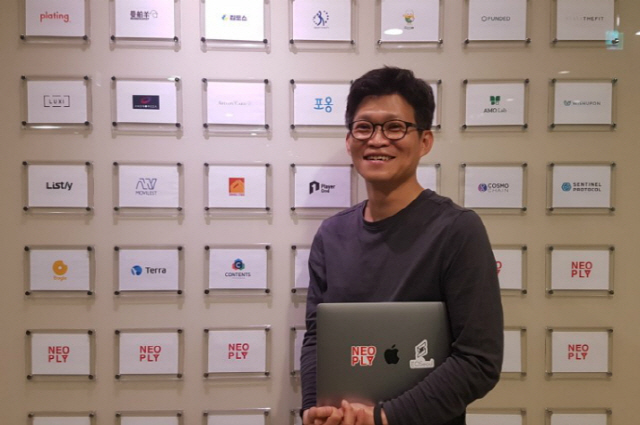 Neoply CEO Kwon Yong-gil
"We would be grateful if teams focusing on internal values rather than short-term results such as price show interest in Neoply. Neoply has invested in startups in the early stages for long and its strength can be found in nurturing them."
In an interview at the Neoply headquarters in Pangyo, south of Seoul, last week, Kwon Yong-gil, the company's CEO, said, "We are looking for startups that are in their earlier stages than blockchain projects we have incubated so far." Neoply has invested mostly in newly created startups preparing to put into practice their ideas so far, and this experience is to be applied in its blockchain business too.
Neoply is one of Korea's leading startup accelerators. 'Anipang' developer Sunday Toz and Luxi, a car pool startup Kakao Mobility acquired last February, received early-stage investments from Neoply. More recently, blockchain startups are beginning to be listed on its portfolios. Since its first investment in April, Neoply has grabbed six blockchain projects. They are Playerone, TTC Protocol, Cosmochain, Sentinel Protocol, Contents Protocol and Terra.
How did Neoply set food on the blockchain industry? Neowiz, Neoply's parent company, attempted to put games on the blockchain network last year but found that Ethereum was slow and expensive. Later Neoply came to recognize EOS and block producers (BP). "Operating software made by other people and companies well is Neowiz Group's specialty. Neoply and other group affiliates formed a task force to create EOSeoul, a candidate for the position of EOS IO block producer," Kwon said.
Naturally, investments, Neoply's specialty, went ahead together. "We invested in tokens of such projects as Playerone on the Ethereum network," Kwon said, adding that "what were chosen to receive investment were reverse ICO (initial coin offering) projects largely." He sees the scope of the reverse ICO broadly. "To win confidence from investors, it's important to demonstrate experiences and capabilities from the perspective of the past. We look at bygone and present projects."
Kwon says he hardly makes much of a "white paper." "A business plan is not that important when we invest in stocks of a startup. What's important is whether the startup reacts swiftly to feedback from the market and customers and is flexible and active enough to adapt to circumstances," he said.
Positions in a specific market can be the yardstick for investment. "When a specific field is chopped up, it's important that the No. 1 operator is doing what others are not in the relevant market," he said, adding that "the key is whether you have things you could do better than the top ranker if you placed second." "As many services have not come on the stage yet in the blockchain world, there is a chance to be the first mover. Numerous imitators have appeared since CryptoKitties but none but CryptoKitties remain on people's mind."
Kwon expected some blockchain platforms to disappear sooner or later. "The competition for speed has attained maturity. Now such factors as the confirmation time for final transaction, the quality of tools for DApp developers, compatibility with cloud services and costs of platform users are becoming more important," he said. Kwon predicted a similar situation in the blockchain platform market just like the number of computer and smartphone operating systems narrowed down to only a few.
Kwon also spoke about the latest ICO trends. According to him, many projects finalize funding in the phase of private sale and some startups armed with enough captial hesitate to conduct ICOs. "As the lock-up period of investors setting sights on project tokens looks set to lengthen further, they must feel more responsibility," he said. At present, blockchain accelerators and investors in the stage of private sale have to comply with the lock-up periods of six months to one year.
Neoply, which has genes of a gaming company, often implements blockchain projects in person, boosted by robust technical expertise of its parent company. The company has developed several games to be put on EOS and is working on a voting system for EOS Worker Proposal (WP). The WP system means offering rewards to those who contribute to the development of EOS. Of 5% inflation tokens that occur a year, 4 percent is allocated for this.
On a question about more staff, he said, "The door for recruitment is always open. We welcome those who change their careers into the blockchain industry." Now Neoply has about 20 employees.
/Doobo Shim Reporter shim@decenter.kr
<저작권자 ⓒ 서울경제, 무단 전재 및 재배포 금지>
XC