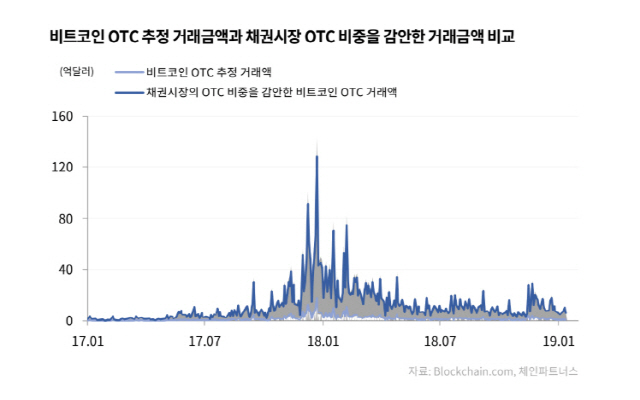 Comparison of estimated Bitcoin OTC transaction amount and Bitcoin OTC amount considering OTC percentage in the bond market /Chain Partners' research center
Chain Partners' research center has unveiled a comprehensive research report on the cryptocurrency over-the-counter (OTC) market.
In the report entitled A "look at the OTC market using the rule of five Ws and one H" released Thursday, the think tank said the cryptocurrency OTC market will continue to expand.
OTC trading refers to transactions of investment assets such as equities, bonds and derivatives done directly between two parties without the supervision of an exchange. OTC trading in traditional financial markets involves shares of unlisted companies typically; the bond OTC market is intended to link dealers with traders. The digital asset OTC market enables brokers to earn transaction fees by connecting buyers and sellers.
According to the report, Goldman Sachs-backed startup, Circle, executed $24 billion OTC trades in 36 countries last year. Trades posted by the top 10 exchanges, as measured by CoinMarketCap, amounted to $119.8 billion in the last one month. Considering that the digital asset OTC market accounts for 25% of total trades, it is presumed that about $40 billion assets were traded in the OTC market in the one-month period.
"The proportion of OTC trades in the bond market reaches 70 to 80% in general, and if this is applied, the OTC market could grow to be a market that can trade $120 billion a month," the report said. "Considering the 2% transaction fees, the $800 million one-month fee income could rise up to $2.4 billion."
Noting that the OTC market has been expanding although trading volume has decreased amid the price crash of digital assets since early 2018, the paper said, "Demand for OTC trading to cash in ICO projects is increasing despite the shrinkage of the ICO market."
TABB Group, a global research company, released an analytical report in which it said OTC crypto markets already exceed exchange volumes by 2 to 3 times. Eric Wall, a researcher with TABB Group, said, "1 to 1.5 million BTC is traded OTC daily."
Given the characteristics of the digital asset market, ICO projects, exchanges, mining pools and big traders prefer OTC trading. "There have been some cases in which traders were unable to buy as much as they want because of the lack of liquidity. 'Whales' prefer OTC trading because the OTC market is also advantageous in cost effectiveness," said the report from the Chain Partners' research center. That is, the OTC market is satisfactory in terms of prices and convenience.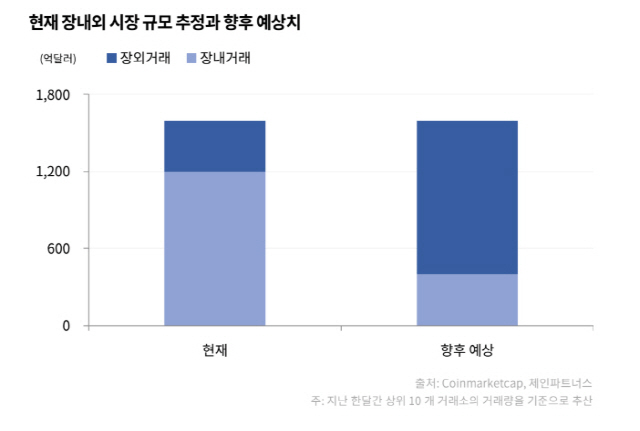 Current estimation of OTC and non-OTC markets and future estimates
The paper added, "Companies wishing to perform OTC trades cannot help but increase as long as there are ICO and STO (security token offering) projects. The OTC market will gain traction further alongside the crypto market."
Han Dae-hoon, head of research at Chain Partners, attributes the "rise in OTC trading volumes to prices and convenience in trading." According to Han, OTC trades are conducted largely by big-money investors wishing to trade large amounts of digital assets but they often fail to make transactions or suffer losses in ordinary crypto exchanges owing to liquidity problems and price volatility. He said big-money investors would prefer the OTC market where they can trade at designated prices with such fiat currencies as the dollar and the won. /edshin@decenter.kr
<저작권자 ⓒ 서울경제, 무단 전재 및 재배포 금지>
XC