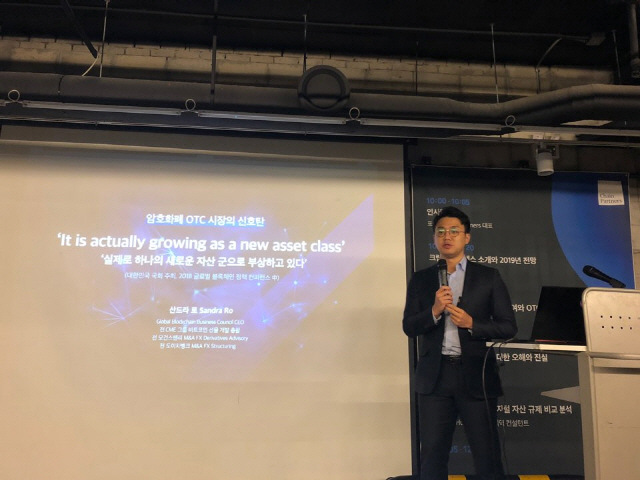 Lee Hyuk-jae, head of OTC trading at Chain Partners, speaks about the OTC market Tuesday. /Janice Yunji Kim
"Cryptocurrency exchanges can't deal with volumes of institutional investors worth hundreds of billions of won due to the lack of liquidity and price disparities. Institutions are inevitably in need of the OTC (over-the-counter) market. STO (security token offering) tokens, which are emerging as trends at home and abroad of late, will be activated in the OTC market eventually."
Lee Hyuk-jae, head of OTC trading at Chain Partners (CP), stressed the importance of the OTC market in his speech under the theme "Institutions' participation in the digital asset market and the OTC industry" at the CP media talk - cryptofinance event held in southern Seoul Tuesday. Chain Partners' research center had predicted that the cryptocurrency OTC market will continue to expand in its research report entitled "A look at the OTC market using the rule of five Ws and one H."
OTC trading refers to transactions of investment assets such as equities, bonds and derivatives done directly between two parties without the supervision of an exchange. OTC trading in traditional financial markets involves shares of unlisted companies typically; the bond OTC market is intended to link dealers with traders. The digital asset OTC market enables brokers to earn transaction fees by connecting buyers and sellers like the bond OTC market.
"At present, the crypto OTC market is dominated by institutions. Institutions wishing to process transactions worth over 1 billion won make it a rule to do it in the OTC market where large volumes can be transferred at one price," Lee said. "Even in traditional financial markets, the bond OTC market is 2 to 3 times bigger than the ordinary market."
Crypto exchanges both at home and abroad are eager to dominate the OTC market. Such high-ranked exchanges as Huobi and Kraken are also supporting OTC trading and Binance has announced a plan to enter the OTC market. "The crypto OTC market is emerging as a new business for exchanges," Lee said.
He also forecast that the crypto custody market would make big strides. Lee took note of the fact that BitGo, which had received investments from Goldman Sachs and Galaxy Digital, and Coinbase and Fidelity are jumping into the custody market. "The custody market is in the spotlight in terms of stability and efficiency thanks to its function to prevent the loss of crypto assets and the risk of exposure. Demand in the custody market is rising on the back of institutions' participation in the market," he said. Lee also expressed optimism about the custody service, saying institutional investors prefer to invest stably.
The growth potential of derivatives was evaluated to be big as well. Lee said minimizing the exposure to price volatility through rising trading volumes, profit creation, capital efficiency and risk removal will combine to prop up the market's potential. "One of the characteristics of derivatives is to hedge against risks through leverage. This will help solve the liquidity problem considerably," he said. /edshin@decenter.kr
<저작권자 ⓒ 서울경제, 무단 전재 및 재배포 금지>
XC