Interest is growing in the Galaxy S10 in which Samsung Electronics has claimed to integrate all the high-tech features of latest smartphones. Also, a warm breeze appears to be blowing in the cryptocurrency market amid the news that Samsung's latest smartphone supports a crypto wallet and blockchain-based decentralized applications (DApps). Let's look at what cryptocurrencies and DApps Samsung's blockchain wallet, which was updated on Friday, has chosen.
18 cryptocurrencies and 4 DApps supported basically
Users can create crypto accounts newly by creating private keys through the wallet or restore the crypto list by invoking previously used private keys. Remittance is also possible by registering frequently used crypto addresses in the address book. When making a remittance, users can choose fees according to transaction speed: fast, average, or slow. The speedier, the bigger fees are.
In its notice for users, Samsung said, "All requests for crypto remittances are operated in different security OS separated from cryptocurrency OS and so our system is safe from outside hacks and data leaks."
At present, 18 cryptocurrencies can be added to Samsung's blockchain wallet basically. They are all Ethereum-based ERC-20 tokens: Ethereum (ETH), TrueUSD (TUSD), Basic Attention Token (BAT), Augur (REP), Revain (Revain), Chain Link (LINK), Aeternity (AE), Paxos Standard Token (PAX), Maker (MKR), USDCoin (USDC), Pundi X (NPXS), Binance Coin (BNB), Cosmo Coin (COSM), Bytom (BTM), OmiseGo (OMG), Populous (PPT), Vechain (VET) and 0x(ZRX).
Other ERC-20 tokens than cryptocurrencies set as basic tokens can be added directly by entering token contract addresses, token names and token symbols. ERC-1155 tokens also can be added to the Enjin crypto wallet listed among basic DApps.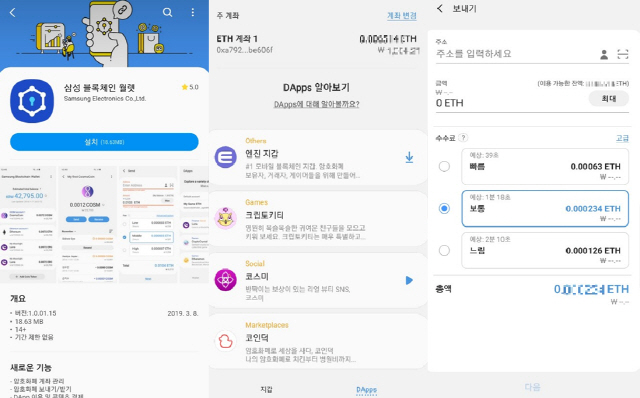 A screenshot of Samsung's blockchain wallet in operation
The wallet has a tab enabling users to go to DApps in addition to the cryptocurrency storage function. Partner DApps in such segments as gaming, social media and so on can be downloaded through the tap inside the blockchain wallet. DApp startups not included as basic DApps can be added to the DApp list through partnerships with Samsung.
"DApps store and execute data on blockchain networks instead of centralized servers. This is a safer and reliable method than the centralized method," a Samsung spokesman said. COSMEE and Enjin are in operation as mobile applications but most others are still operational as online websites.
DApps added basically at present are the Enjin wallet, CryptoKitties, COSMEE and Coinduck. Two DApps have been added since COSMEE and Enjin appeared in the Samsung Mobile Business Summit session during Mobile World Congress 2019 held in Barcelona, Spain, on Feb. 25. COSMEE and Enjin DApps can be downloaded as applications through Google Play Store while CryptoKitties is linked to the internet website. Coinduck, a payment DApp, is linked to the QR code scan screen directly if users click the icon on the DApp page.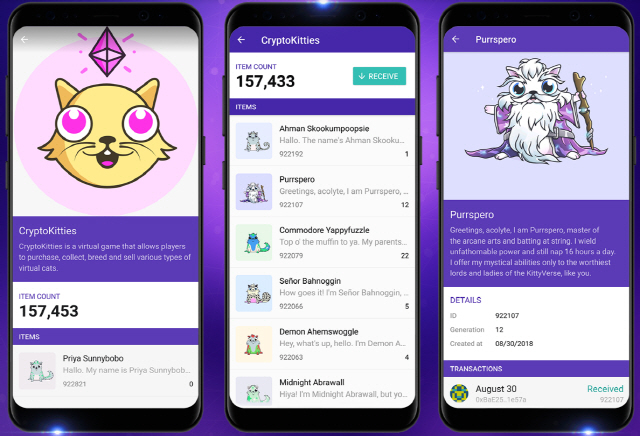 Enjin wallet and CryotpKitties/ courtesy of Enjin
Enjin supports 800 kinds of major cryptocurrencies
Enjin is an Ethereum-based project intended to develop games and items. Samsung's blockchain wallet classifies it in the "rest" section.
The Enjin wallet can store Ethereum-based ERC-20 and ERC-1155 tokens. It supports 800 kinds of major cryptocurrencies like Bitcoin (BTC) and Litecoin (LTC) aside from Ethereum-based tokens aand storing other tokens not supported by Samsung's blockchain wallet is possible.
Enjin also makes it possible to store "item collections" of blockchain-based games in its wallet in addition to major cryptocurrencies. Currently, it's possible to store items by linking games based on ERC-721 and ERC-1155 to the Enjin wallet. For example, users can store virtual cats of Cryptokitties, a blockchain-based video game that allows players to breed virtual cats, or trade items with other people. Also, it's possible to watch game items of other wallet users or boast their collections.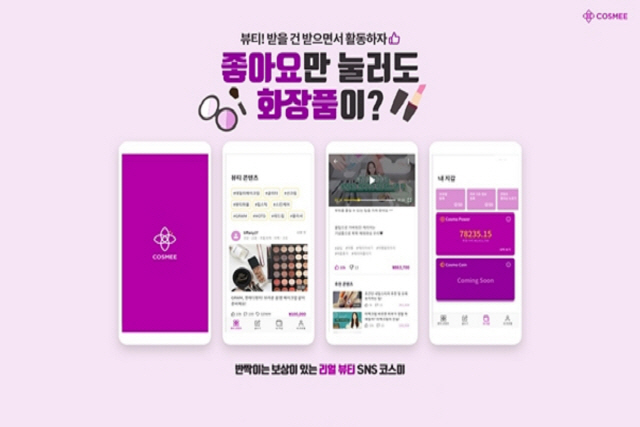 COSMEE /courtesy of Cosmochain
Beauty social media DApp 'COSMEE'
COSMEE is a blockchain-based social media DApp operated by blockchain company Cosmochain, which was launched by Trillionaire running Huiseoul, a K-beauty online shopping mall. COSMEE, one of only a few DApps commercialized in Korea, is included in the "social" section of Samsung's blockchain wallet. In the Galaxy S10 smartphone, users can use the DApp by downloading the COSMEE application through linkage with Samsung's blockchain wallet.
COSMEE envisions giving cryptocurrency "COSM" in reward according to the user's assessment if he or she uploads reviews on cosmetics. During the three-month pilot service period from last August, a total of 300,000 downloads and 70,000 reviews were registered. However, COSMEE is still a beta version and no plan has been announced as to the release of its formal version.
Cosmochain CEO Song Ho-won said, "COSMEE has already secured diverse female users and this has played an important part in being chosen as the partner DApp of the Galaxy S10." "We will do our best to be recognized as a major DApp through our customer-friendly services."
Cryptokitties - the world's first blockchain-based gaming DApp
Cryptokitties is classified in the "game" section of Samsung's blockchain wallet. It allows players to purchase and breed various types of virtual cats through Ethereum. Players also can trade cats made through crossbreeding according to the degree of scarcity.
Cryptokitties, the world's first blockchain-based online game, was released in December 2017. It boasts the highest vitality among Ethereum DApps and is so popular that the rarest cat is traded at over 100 million won.
Having activated ETH trading, Cryptokitties saw its transaction fees rise after the bottleneck phenomenon as many users converged in early 2018.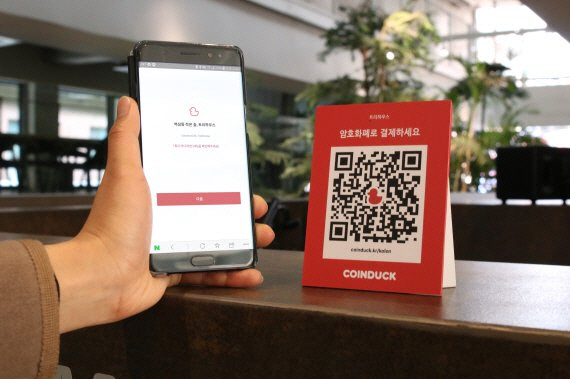 Payment through Coinduck /courtesy of Chain Partners
Will Coinduck enable monthly rent payment with Ethereum?
Coinduck is an Ethereum-based payment service released in January last year. It has secured nearly 1,000 affiliate members in Korea and became the first cryptocurrency company to join Samsung's startup nurturing program "C-Lab" in December.
Coinduck's cryptocurrency payment is classified in the "marketplace" section of Samsung's blockchain wallet. If a user clicks the Coinduck icon at the application, he or she can see the QR code scan screen at once and then scan the payment QR code before making payment through the wallet's Ethereum.
If payment is done, affiliate members receive short messages within 30 seconds or so according to circumstances of the Etheremum network; calculations are possible through designated accounts the following day. The commission is 1% regardless of the amount. Coinduck's members in which payment is possible through cryptocurrencies in Korea vary, ranging from services close to people's livelihood like cafes, hospitals, drug stores, beauty parlors and nail shops to hotels, used car stores and rental car shops.
"The previous crypto payment system has been burdened with the cumbersome procedure through which one had to copy the recipient's wallet address and paste it in an individual wallet. But connecting Samsung's blockchain wallet with Coinduck directly will improve its usability greatly," a Coinduck official said.
Meanwhile, COSMEE and Enjin's tokens Enjin (ENJ) and COSM rose sharply before and after the Mobile World Congress.
Enjin, which had traded around 30 won in February, rallied since late February before breaking 300 won. As of Monday, Enjin was trading at 200 won. COSM had traded around 15 won in February but hit an all-time high of 80 won Sunday before falling back to 60 won Monday. /wonjaeyeon@decenter.kr
<저작권자 ⓒ 서울경제, 무단 전재 및 재배포 금지>
XC