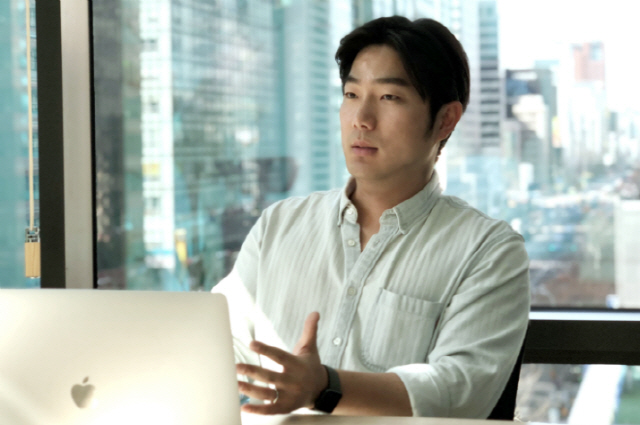 Ryu Chun, Tokenbank's service team leader, says his company aims to be "Kakao Bank" in the crypto space.
Thousands of won worth of cryptocurrencies are traded a day at large crypto exchanges. The biggest reason why investors opt for big exchanges is that such platforms boast large trading volumes. Buying and selling orders are easy to be processed because of large volumes.
Choosing cryptocurrency wallets is different though. There is no need to bother checking how much cryptocurrency is stored in the wallet he or she is trying to use. You have only to choose a wallet that is easy to use and functions well. In connection with this, Tokenbank service team leader Ryu Chun said, "Tokenbank stores EOS as much as large crypto exchanges do." He further stated that it is unusual for a single crypto wallet to win popularity among specific coin holders because crypto wallets are usually selected according to individual taste.
How could Tokenbank hold EOS worth 410 billion won?

A total of 30.8 million EOS (410 billion won) has passed through Tokenbank up to now since last May. Tokenbank once ranked 27th in the global order of EOS holders and third domestically after Bithumb and Upbit. The amount of EOS retained in the crypto wallet is equivalent to that in big exchanges. Out of 230,000 EOS holders around the world, 13,000 are using Tokenbank now.
How could Tokenbank win fame among EOS holders? "Users swelled as we supported token swaps at the time of the EOS mainnet release," said Ryu. When the EOS mainnet launched last June, Tokenbank supported snapshots needed to convert EOS tokens into EOS coins. At the same time, the company offered free service fees for deposit and withdrawal and supported airdrops of EOS-based tokens. This is how lots of EOS piled up at Tokenbank.
Since then, Tokenbank has been assisting EOS-based projects. "We often help EOS DApp projects while supporting airdrops of EOS-based tokens. We also aim to lower entry barriers confronting EOS holders when they use the wallet," Ryu said.
Tokenbank's ambitious blueprint

However, as Tokenbank supports other cryptocurrencies in addition to EOS, it looks more ambitious. The company is gearing up to provide information on project analysis while developing technologies and supporting blockchain projects. The fact that blockchain technology enterprise Hexlant created Tokenbank makes its dream more plausible.
Ryu says his company is ready to pay more attention to technology like API (application programming interface) although it is devoted to a crypto wallet. "Some prominent mainnets like RSK have yet to be listed on Korea's crypto exchanges. We plan to make an API enabling deposit and withdrawal of RSK-based tokens and provide it for exchanges." Toward that end, Tokenbank has decided to form a partnership with TEMCO, an RSK-based DApp project.
The company also plans to beef up alliance with SK Planet's "Syrup Wallet" that already boasts 10 million users. Tokenbank formed a partnership with Syrup Wallet last October and has been providing crypto wallet services for customers who are issued "Tokenbank cards." Ryu stated, "Such services as Syrup Wallet with a huge user base can serve as a bridgehead in broadening the cryptocurrency ecosystem."
What Tokenbank is dreaming with these diverse services is to become "Kakao Bank" in the cryptocurrency industry. Like Kakao Bank has established itself as an internet-only bank, Tokenbank commits itself to dismantling entry barriers to cryptocurrencies and offering comprehensive services. "All deposit and withdrawal processes are designed easily for the sake of convenient user experience," said Ryu, adding, however, that using the crypto wallet is not necessarily the only entry barrier.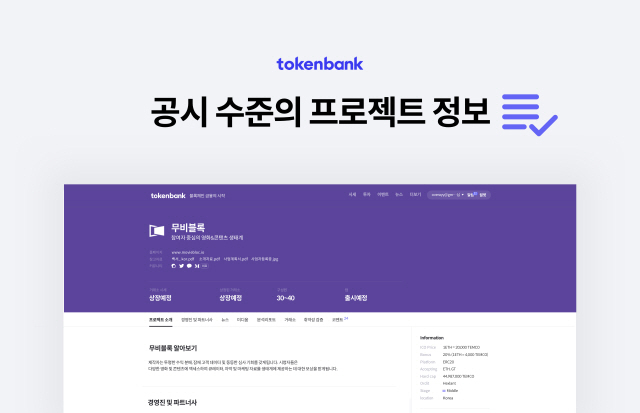 Information on ICO projects provided by Tokenbank
Another entry barrier Ryu mentions is investment risk. "Like there are disclosure standards in stock investment, cryptocurrency investment also needs something that helps verify besides the white paper, a business plan," Ryu said. Hence, Tokenbank issues reports by analyzing ICO (initial coin offering) projects. "We will offer information on par with stock investment disclosures," he further stated. Tokenbank supports ICOs directly if there are technology-focused projects. "We often help raise funds after examining information on a project team and its technical prowess. We will provide a wallet where investors can store crypto assets without fear," Ryu said. /hyun@decenter.kr
<저작권자 ⓒ 서울경제, 무단 전재 및 재배포 금지>
XC